Bear Bites Wisconsin Hunter After Breathing Down His Back 20 Feet up a Tree
A Wisconsin hunter was bitten by a bear that he estimated to weigh 250-300 pounds while perched in a tree stand nearly 20 feet off the ground.
Dalton Roach, 25, from the city of Eau Claire, was hunting for deer in the woods of Trempealeau County on Saturday when he spotted a black bear walking close to his vantage point, local news outlet the Leader-Telegram report.
Roach was excited having never seen a bear before in the wild and took out his cellphone to film the encounter.
"He was just kind of moseying around. He didn't look like he was on any kind of a mission or anything," Roach, who plays professional baseball for the St. Louis Cardinals' Double-A affiliate in Springfield, Missouri, told the Leader-Telegram.
"But when he got to about 20 yards away, he took a left turn and came directly under my tree."
The hunter decided to put his phone away before realizing that the bear was climbing up the tree directly toward his position on the tree stand, which consisted of a platform measuring around four-square feet in area.
"The next thing I know I can hear him right behind me and feel him breathing on my back," Roach said. "Then I feel a paw on my lap. He just kind of left the paw sitting there, so it's not like I wanted to make a big move and make him squeeze."
Next the bear began to bite him on the right side of his back and Roach feared the worst before deciding that he had to take some form of action.
"Right when I thought this might be it, I decided I wasn't going to just go out and it was better to at least try to do something to get out of this situation," he said.
The hunter said that he spun around in order to face the bear and made himself look as big as he could while making lots of noise.
"Luckily, he kind of leaned back, seemed to say, 'What the heck,' and eventually got out of the tree," Roach said.
The bear lingered at the base of the tree for some time before finally wandering off. Once he could no longer see the bear, Roach climbed down from the tree stand and headed for his vehicle.
"I think I still had so much adrenaline pumping that there wasn't tons of pain going on and I could tell there wasn't a lot of blood dripping," he said.
He checked himself in at an emergency department where medical staff treated his wounds. Roach also received a tetanus shot as well as preventative rabies injections that he must continue for the next couple of weeks.
Roach said his wounds were tender but not particularly painful.
"I'm pretty fortunate that it's not some big nasty bite that took off half my back and that I'm still here and able to talk about it today. I'm very fortunate that this whole scenario went the way it did and now I have a heck of a story to tell."
According to the Wisconsin Department of Natural Resources, there are around 24,000 bears in the state, current estimates suggest.
The department says bears are generally afraid of people and tend to avoid confrontation. But they may act defensively if they are protecting their young or a food source, or become agitated if startled, leading to aggressive behavior.
The agency provides the following recommendations for people who encounter a bear that is acting aggressively:
• Talk to the bear or start shouting if it doesn't leave.
• Raise arms above your head and wave at them to appear larger than you are.
• Do not run. Slowly back away and don't turn your back on the bear.
• Always leave an escape route for the bear.
• Do not lie down or play dead. Fight back if attacked.
Newsweek has contacted the Wisconsin Department of Natural Resources for comment.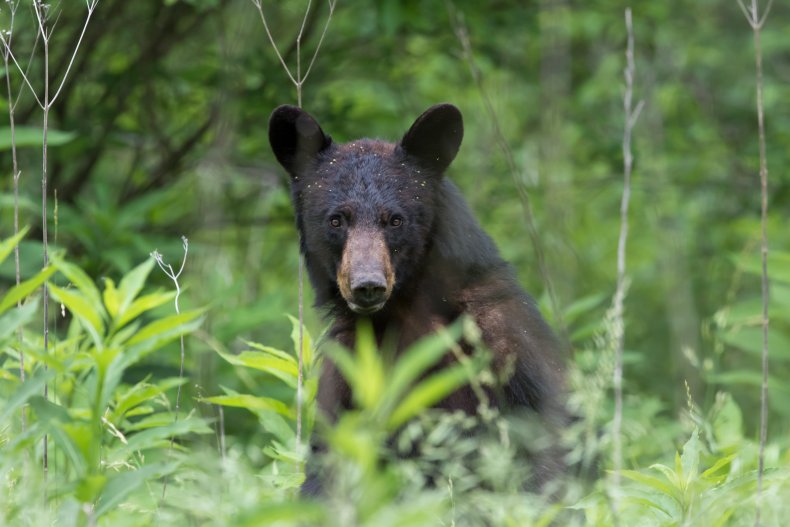 Published at Wed, 20 Oct 2021 13:34:24 +0000
https://www.newsweek.com/black-bear-bites-eau-claire-wisconsin-hunter-20-feet-tree-1640812